Can't Find what you're looking for? Try Google Search Here!"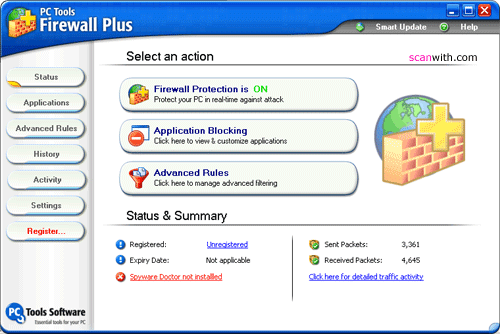 PC Tools Firewall Plus is a powerful free personal firewall for Windows that protects your computer by preventing unauthorized users from gaining access to your computer through the Internet or a network. By monitoring applications that connect to the network Firewall Plus can stop Trojans, backdoors, keyloggers and other malware from damaging your computer and stealing your private information.
PC Tools Firewall Plus is advanced technology designed especially for people, not just experts. Powerful prevention against attacks and known exploits is activated by default while experienced users can optionally create their own advanced packet filtering rules, including IPv6 support, to customize the network defenses. All you need to do is install it for immediate and automatic ongoing protection.
That's how PC Tools Firewall Plus provides world-leading protection, backed by regular Smart Updates, real-time protection and comprehensive network shielding to ensure your PC remains safe and hacker free. PC Tools products are trusted and used by millions of people every day to protect their home and business computers against online threats.
We recommend you use PC Tools Firewall Plus in combination with Spyware Doctor for comprehensive system protection against spyware, adware and other threats.
Features of PC Tools Firewall Plus Free Edition 6.0 :
· Protects your PC as you are working, surfing and playing.
· Intelligent automatic protection without all the questions.
· Easy to use. Designed for both, novice and expert users.
· Advanced rules to protect your PC against common attacks.
· Best of all it's FREE. No catches, limitations or time-limits.
What's New in PC Tools Firewall Plus Free Edition 6.0 :
• New Network Awareness
· PC Tools Firewall Plus detects when you connect to a local network for the first time and enables users to define rules for each and every local network your PC joins. You can also simply set the trust level for each local network and let PC Tools Firewall Plus automatically adjust rules to match.
• Improved Data Leakage Protection
· PC Tools Firewall Plus helps keep the information stored on your PC private and safe from hackers by detecting and blocking attempts by malware to leak data using trusted applications, such as web browsers and critical system services.
• Windows Filtering Platform Support
· PC Tools Firewall Plus is built using the new Windows Filtering Platform (WFP) architecture in Windows 7, Vista and Server 2008 to provide you with precise control over all network traffic, including IPv6, on both 32bit and 64bit systems.
• Improved Performance
· PC Tools Firewall Plus has minimal impact on system and network resources - perfect for processor-intensive, high-bandwidth games and online broadband media content.
• Other Fixes
· Access to network shares fixed
· Fixes with the NDIS driver
· Minor bug fixes
What's New in PC Tools Firewall Plus Free Edition 7.0 Beta :
· User modes have been removed - there is no Normal/Expert user modes anymore. It's one mode that is simple to understand for normal user and has advanced options for advanced users.
· We have added more Extensive Security Permission (ESP) - Improved the produce Self Protection.
· Improved the 'look and feel' of the Application rules.
· More informative pop ups.
· Different 'look and feel' for Profiles (not so different just a little).
· Network shows adapter information and adapters can show which network is connected to them.
· Fixed BUGs of previous version
• Other Fixes
· Network issues found in the beta 1
· GUI crashes
· Few minor fixes
Download
[ PC Tools Firewall Plus Free Edition 6.0.0.88 ]
Download
[ PC Tools Firewall Plus Free Edition 7.0.0.62 Веtа 2 ]
Related Posts : Firewall