Can't Find what you're looking for? Try Google Search Here!"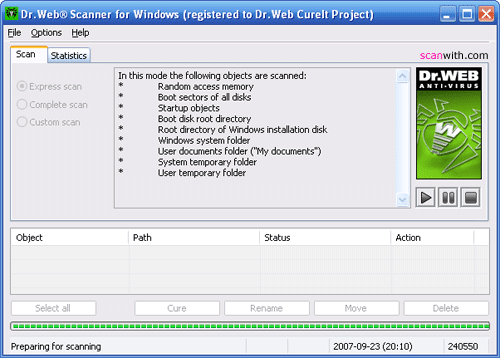 Dr.Web CureIt! is a FREE antivirus and antispyware utility based on Dr.Web Anti-virus scanner, which will help you quickly scan and cure, if necessary, a computer operated by MS Windows 95OSR2/ 98/Me/NT 4.0/2000/XP/2003Vista without installation of the Dr.Web Anti-virus.
Dr.Web CureIt! automatically detects the language of the OS it is installed to and sets the scanner interface accordingly (if the local language is not supported, English is enabled).
The utility contains the most up-to-date add-ons to the Dr.Web virus databases going up to twice per hour frequency at periods of high malware submissions.
Dr.Web CureIt! detects and removes :
* Rootkits * Mass-mailing worms * E-mail viruses * Peer-to-peer viruses * Internet worms * File viruses * Trojans * Stealth viruses* Polymorphic viruses * Bodiless viruses * Macro viruses * MS Office viruses * Script viruses * Spyware * Spybots * Password stealers * Keyloggers* Paid Dialers * Adware * Riskware* Hacktools * Backdoors * Joke programs * Malicious scripts * Other malware*
How do I update Dr.Web CureIt?
This utility can quickly clean an infected system, but it is not a permanent tool to cure your computer in case of infection. Its distribution on our web-site is always armed with the hottest add-ons to the Dr.Web virus database, but it does not include the Dr.Web Automatic Updating utility. Dr.Web CureIt! stays actual until the next release of the add-on. To scan your computer with the most up-to-date Dr.Web virus databases next time you should download new Dr.Web CureIt! package.
Related Posts : Antivirus