Can't Find what you're looking for? Try Google Search Here!"
SystemExplorer helps you to find out everything you need to know about your system: detailed informations about Processes, Startups, Explorer, IE Addons, Uninstallers and much more!
Features of SystemExplorer 2
: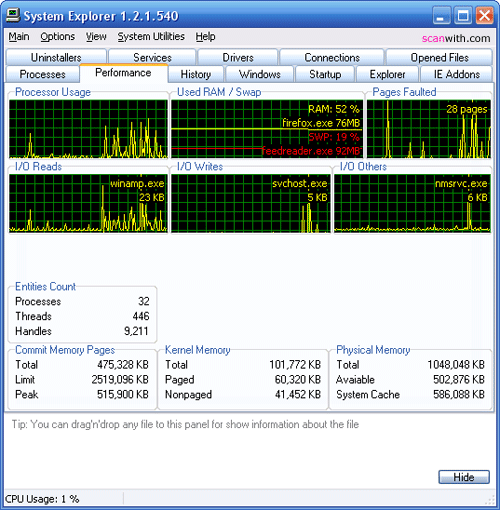 · Detailed informations about Tasks, Processes, Startups, IE Addons, Uninstallers,
Windows
, Services, Drivers, Connections and Opened Files
· Easy check of suspicious files via VirusTotal service.
· Easy search details about file/process via online databases
· Easy access to System Utilities
·
Performance
graphs for monitoring usage of system resources in time
· Action History for monitoring processes activities
· Making of System Snapshots for easy finding of system changes.
· Multiple language support (English, Espanol, Deutsch, Portuguese, Japanese)
What's New in SystemExplorer 2.2
:
· This version contains bugfixes and updated language files. The major change can be found on Processes window - improved visibility was added. First column with the process name is fixed, not scrollable to the sides, so it can be visible all the time. For users using complex process actions visibility (up to 27 parameters in different columns), this will help in orientation over the process window.
What's New in SystemExplorer 1.5
:
· Added Support for External and Internal Plugins.
· Added Filtering support to lists.
· Security: New plugin adds security enhancements
· Modules: New plugin adds Modules tab to Monitoring group
· Launcher: New plugin adds support for "Create New Task" dialog with autosearch and suggestions features. Launcher dialog can be displayed via ALT+SPACE
· System Report: New plugin for generation of System Report. Accessible from Menu "Generate System Report"
· Processes: Added "Affinity Column" to list
· Processes: Added "Affinity Settings" to Processes Popup
· Processes: Added "Priority Column" to list
· Processes: Added "Process Start Time" Column to list
· Processes: Added "Command Line Params" Column to list
· FileDetails: Added "Copy All to Clipboard" button
· History: Added "Copy To Clipboard"
· Search: Implemented searching in all tabs via CTRL+F
· Drivers: Added option for change "Driver Startup Type"
· Opened Files: Added "Close Handle" Option to popup
· Snapshots: Added Save results in CSV format
· Added "Select Columns" to Menu>View
· Added File Check via virusscan.jotti.org
· Added Save List in CSV format
· All tabs were transformed to internal plugins. Unwanted tabs can be hidden in Plugin Manager.
· Optimised running in Tray. CPU usage is near to zero, if you don't have active Performance Tab.
· Processes: Changed Process CPU Usage measuring method.
· Snapshots: Moved to group "Monitoring", tab "Snapshots".
· Snapshots: New snapshots format
· Snapshots: All code was rewritted
· Snapshots: Optimized Text Report
· Launcher: Improved search result sorting algorithm
· Uninstallers: Moved to group "Software"
· Improved support for dark themes
· Improved support for 120 DPI fonts
· Languages stored in languages directory...Removed from resources
· Language Detection Improvements
Download
Related Posts : Freeware